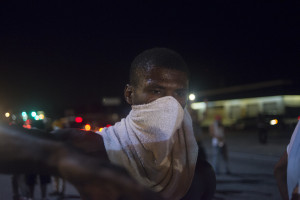 Ferguson is not just about systemic racism — it's about class warfare and how America's poor are held back, says Kareem Abdul-Jabbar
You probably have heard of the Kent State shootings: on May 4, 1970, the Ohio National Guard opened fire on student protesters at Kent State University. During those 13 seconds of gunfire, four students were killed and nine were wounded, one of whom was permanently paralyzed. The shock and outcry resulted in a nationwide strike of 4 million students that closed more than 450 campuses. Five days after the shooting, 100,000 protestors gathered in Washington, D.C. And the nation's youth was energetically mobilized to end the Vietnam War, racism, sexism, and mindless faith in the political establishment.
You probably haven't heard of the Jackson State shootings.
On May 14th, 10 days after Kent State ignited the nation, at the predominantly black Jackson State University in Mississippi, police killed two black students (one a high school senior, the other the father of an 18-month-old baby) with shotguns and wounded twelve others.
There was no national outcry. The nation was not mobilized to do anything. That heartless leviathan we call History swallowed that event whole, erasing it from the national memory.
And, unless we want the Ferguson atrocity to also be swallowed and become nothing more than an intestinal irritant to history, we have to address the situation not just as another act of systemic racism, but as what else it is: class warfare.
By focusing on just the racial aspect, the discussion becomes about whether Michael Brown's death—or that of the other three unarmed black men who were killed by police in the U.S. within that month—is about discrimination or about police justification. Then we'll argue about whether there isn't just as much black-against-white racism in the U.S. as there is white-against-black. (Yes, there is. But, in general, white-against-black economically impacts the future of the black community. Black-against-white has almost no measurable social impact.)
Then we'll start debating whether or not the police in America are themselves an endangered minority who are also discriminated against based on their color—blue. (Yes, they are. There are many factors to consider before condemning police, including political pressures, inadequate training, and arcane policies.) Then we'll question whether blacks are more often shot because they more often commit crimes. (In fact, studies show that blacks are targeted more often in some cities, like New York City. It's difficult to get a bigger national picture because studies are woefully inadequate. The Department of Justice study shows that in the U.S. between 2003 and 2009, among arrest-related deaths there's very little difference among blacks, whites, or Latinos. However, the study doesn't tell us how many were unarmed.)
This fist-shaking of everyone's racial agenda distracts America from the larger issue that the targets of police overreaction are based less on skin color and more on an even worse Ebola-level affliction: being poor. Of course, to many in America, being a person of color is synonymous with being poor, and being poor is synonymous with being a criminal. Ironically, this misperception is true even among the poor.
And that's how the status quo wants it.
The U.S. Census Report finds that 50 million Americans are poor. Fifty million voters is a powerful block if they ever organized in an effort to pursue their common economic goals. So, it's crucial that those in the wealthiest One Percent keep the poor fractured by distracting them with emotional issues like immigration, abortion and gun control so they never stop to wonder how they got so screwed over for so long.
To read the rest of the post, visit my former employer, TIME.com