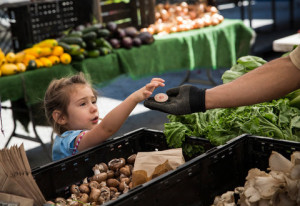 A girl paid for her mother's groceries using Electronic Benefits Transfer tokens, or Food Stamps, in New York City on Sept. 18, 2013. Image by Andrew Burton/Getty Images
Even as negotiations proceed in Congress over a new farm bill likely to contain a large cut in food stamps, needy Americans who rely on the program are confronting an immediate drop in benefits.
As of today, the boost to the federal food stamps program included in the 2009 Economic Recovery Act expires, abruptly slashing benefit levels that were already inadequate for millions of poor children and their families, as well as impoverished disabled and elderly people, who will now find it significantly harder to afford adequate food.
To read the full story, visit nytimes.com.